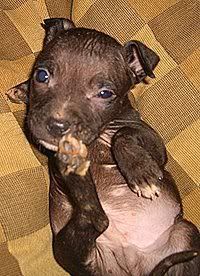 Hey everyone, it's me Mina. I'm here to talk a little bit about this puppy. This puppy does not have a name. This puppy is, according to my minion,
dead
.
I asked the minion why this puppy was dead. Apparently this puppy was a danger to society. Which I very well believe, having lived through several puppies, including my little not-sister Celeste (whose teeth were so dangerous they needed a warning label). But even *I* would not kill Celeste over her massively sharp teeth (I'd eat her but she doesn't fit in my mouth or stomach).
In any event, apparently this puppy was killed because his previous owner (who he never met) was a dog fighter. I'm not sure about the adult dogs as they were not even given a simple chance at a behavioral test. Even *I* was given that chance at a very high-kill (read: death to my kind) shelter. How could this little ball of fluff (and puppy teeth) not be given that chance? How could the adult dogs who may have been a lot like me, afraid but wanting to interact with people not even be given a behavioral test?
I don't think it's very fair. I'm generally a good dog (eating my little not-sister excluded) and I pretty much rule, but if I had had the misfortune of being a breeder for this dog fighter (instead of the jerkwad who used to "own" me), I'd be dead without any consideration for my temperament (which is so beyond awesome, it's above the stratosphere).
What a shame. These dogs are just like me and, like me, should have been given one small chance at hope and a minion of their very own. A chance. Why aren't we worth even that?
If you are a pit bull, go tell your minions right this second that you rule and that they should give you extra love. Remind them, just in case they forget, that you are worth every heartache, $$ spent for trainers and medical costs, and that you rule. I'm pretty sure these dogs, had they been given a chance, would have liked that opportunity.