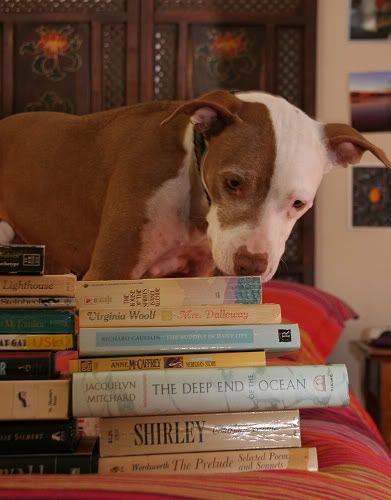 You may not have known this, but I am, in fact, a lover of books. And no, not just books I can eat (according to the minion, that is none).
Here is some evidence of me and my love of books. This is a whole stack of books, and I am ITCHING to dig in and read my little pit bull heart away.
But what is this? I do not have opposable thumbs? These pages do not turn themselves? Wait, I cannot read? What is this tomfoolery?
Anyway, I guess it is okay that I can't actually read. It seems to take up a lot of my minion's time, which should be focused on me, myself and I, oh yeah, and my PNOD. Instead, she checks out book after book after book from the library. That stack you see? Yes, she hasn't read any of those books due to the library's interference. Which is still moot, these books of many words are stealing my minion from me and I feel it must stop. I might have to enlist the help of my not-so-little not-sister. She once ate part of a book and was demoted to my minion's #150th favorite dog. I am willing to sacrifice Celeste's promotion points for the good cause of Stealing Back my Minion from the Clutches of Libraries Everywhere.