Hey everyone, Mina here. Today, I was out with the minion doing my business when out of nowhere a little midget dog-rat-porcupine cross came out and tried to eat my very perdy pink nose of doom. Now, maybe insecure loser dogs would try and eat these irksome little midget dogs but I am neither insecure nor a loser. So, I dodged razor sharp teeth, peed, and whacked one of the munchkin dogs in the head with my tail. Then the pint-size monsters' owner came out and she was appalled, APPALLED, that they were attacking me*. So she scooped them up and took them away from my royal self.
When we got back inside, my minion just had to have me type up this post so she could include pictures of how often I get mauled by midget dogs.
Left is me being violated by an italian greyhound. He's neutered. I'm spayed. It was true wuv. Except that he also tried to mate with my head which is not true love, it's gross.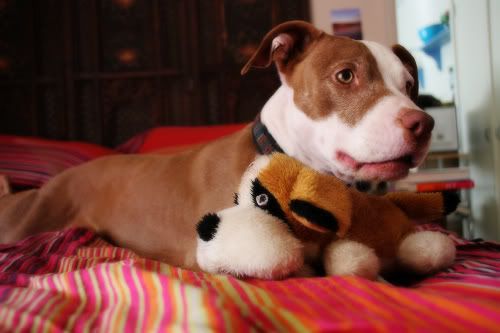 Here I am with Bulldog King of the Stuffed. As you can see, he is at my throat trying to eat me. It was only through my charm and good looks I was able to avoid evisceration by squeaky royalty.
See, I was even nice my little not-sister when she was small and full of vim and vigor and needle teeth. Now she's big and I can walk under her and still tell her who's boss (that would be me).
Anyway, I think this is sufficient evidence that I'm very tolerant of smallish canine-like creatures. Be they not-sisters or stuffed or humping my head.
*The Minion Speaks: Actually, the owner was appalled that my leashed pit bull was anywhere near their two unleashed minions of satan. I tried to be annoyed by their behavior but it's hard when Mina is being such a seriously awesome dog.
PS: I got an award! I'm so very proud of my award achievements. Thank you,
Dozer
!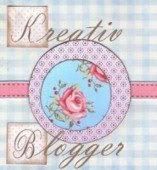 Rules:
List six things that makes you happy
Give the award to six creative bloggers and link to their sites
Tell the bloggers they received the award
Link to the blog where the award came from

Here are six thangs that makes me happy:
Sleeping
Walking with the minion
Eating while sleeping
Teddy bears
Getting massaged
Sleeping
Six creative bloggers: