The scene: Night time, my bed.
The cast:
Mina - sleepy, apparently freezing pit bull
Celeste - awake, non-freezing muttskie
Me - Me
Mina: *whispers* Pssst, minion. Hey, minion! WAKE UP MINION!!!!
Me: Wa-huh? What? Are you insane Mina? It's 4 in the morning! I have three more hours of cotton candy eating dreams to fulfill.
Mina: Well, I noticed you have a lot of blanket available.
Me: And?
Mina: *sighs* Did YOU notice none of that blanket is covering my freezing self?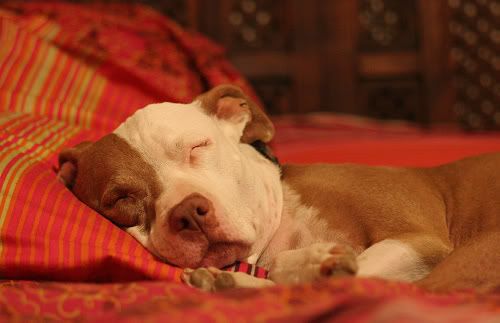 Me: Oh for the love of cotton candy. *drapes blanket over Mina*
Mina: Ahhhhhhh, that's the stuff. Hey, I see you have an extra pillow just lying there, doing nothing.
Me: Yeah?
Mina: I'm taking it.
Me: Fine.
*five minutes later wet nose pokes Me in stomach*
Me: Now what the heck are you doing?
Mina: What do you mean? You have a Mina-shaped spot right by your stomach - who am I to deny you, my ever-dear minion, the chance for a bit of Mina snuggling?
Me: You are obnoxious.
Mina: Takes one to know one.
Me: Wa-huh?
Mina: Go to sleep, minion.